Bangkok University, the Creative University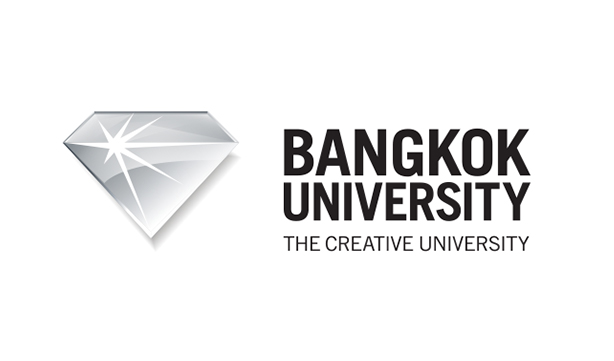 One of the first and largest private universities in Thailand, Bangkok University is a nonprofit institution of higher learning with the goals to educating and developing students to their highest potential in this competitive, fast-changing world. Founded in 1962 by Mr. Surat and Mrs. Pongtip Osathanugrah, with the mission to provide innovative academic and practical studies in ways that will challenge the student's all-around abilities, the University remains committed to accomplish this mission as a recognized educational institution both nationally and internationally.
With a total enrollment of over 22,000 students, the University includes 12 schools that offer academic programs leading to a Bachelor's degree in Business Administration, Accounting, Communication Arts, Digital Media and Cinematic Arts, Humanities and Tourism Management, Law, Economics and Investment, Information Technology and Innovation, Fine and Applied Arts, Engineering, Architecture, and Entrepreneurship and Management. In addition, the Bangkok University International (BU International) offers full programs of study in Marketing, Communication Strategy and Ideation, Business English, Entrepreneurship, Digital Media and Design, International Tourism and Hospitality Management, Culinary Arts and Design, and Innovative Media Production, all using English as the medium of instruction.
The Graduate School is presently directing programs of study in two major fields, namely Business Administration and Communication Arts. The Business Administration Programs are: Master's Degree in Business Administration (International and Thai Programs) and Ph.D. in Knowledge Management and Innovation Management (International Program) in cooperation with University of Grenoble Alps, France. The Communication Arts Programs are Master of Communication Arts (International and Thai Programs).
The Graduate School has added seven new Master's Programs, namely, Master of Laws (LL.M.) from the aca- demic year 2005, Master of Arts (M.A.) in Hospitality and Tourism Industry Management from the academic year 2011, and Master of Architecture (M.Arch.) in Interior Architecture from the academic year 2012.
The most notable addition to our Graduate School results from our partnership with world's #1 rank in entrepreneurship education, Babson College. Through the Bangkok University School of Entrepreneurship and Management (BUSEM), we offer a Master of Management in Entrepreneurship (M.M.E.).
Vision
Bangkok University is a leading, creative, quality, and quality institution.
Mission
To develop Bangkok University so that it becomes a leading, creative, and quality institution
To produce graduates with creativity and entrepreneurship, those who scrupulously create added value to organizations, society, and economy
Values: Define your own life and Success
5 DNAs of Future Success
Creativity
Curiosity
Collaboration
Passion
Street Smarts
Building Success Through Creativity
Only people with new ideas and problem-solving skills will become successful in this highly competitive world. For this reason, Bangkok University emphasizes those curricula that enhance the students' vision and enable them to become competent in all the things that they do. Well-rounded qualifications will increase their potential and generate new ideas and endless inspiration.
This is because the University believes that success can be built through creativity.
As we have entered the new millennium, opportunities for graduate studies in Thailand have never been more favorable. While globalization and rapid changes in technology and economic trends generate profound and constant impacts on our lives, more people choose to pursue graduate study in this country with different motivations:
An increasingly competitive job market - one degree may not be enough;
A wish to strengthen skills and build knowledge - for a current or future career;
A desire to change to a new subject area - by taking a conversion course;
An interest in pursuing an academic career.
Whatever the reason, Bangkok University aims to provide two dynamic routes for graduate studies leading to both master's and doctoral degrees: Knowledge Management and Innovation Management, Communication Arts, Electrical and Computer Engineering, Business Administration, and Management.
These International and Thai programs are specifically designed to suit individual needs and the changing demands of today's business worlds. Taught by highly qualified faculty, with state-of-the-art facilities, our programs will set you on the right path to a successful future.
History
Bangkok University is one of the oldest and most famous private universities in Thailand under the patronage of the Bangkok University Foundation. The University has operated since 1962 with A.Surat and A.Pongtip Osatanugrah's resolution to found a non-profit private university as a center of knowledge to develop modern graduates with knowledge and practical skills to serve the country in the future.
Campuses
Bangkok University consists of 2 campuses.
Located on a 26 rai and 89 square wa plot of land on Rama 4 Road, the heart of Bangkok, the City campus is for 3rd and 4th year students, day program of some schools, International College students. Students enrolling in the Master in Business Innovation program will be located at "Rangsit Campus".
Objectives
To be a leading institution of education that creates and develops human resources with quality and virtue. To be an institution of education that produces graduates with abilities to work, readiness for appropriate self-development in line with social changes, and the abilities to compete globally.