Curriculum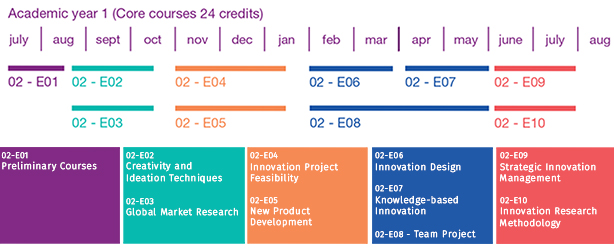 02- E01: Preliminary Courses: Business Management & Business Innovation modules
Participants with no previous business related studies will be required to take business management and Innovation classes.
The business management module presents and debates contemporary business management practice. A case based approach is used to examine the adaptation and application of strategic management and marketing concepts in a range of business development contexts and market situations. Detailed analysis of this practice/theory interface in varying sectors, industries, and international locations will contribute to enhanced understanding of the process, characteristics, and challenges of contemporary business development in practice. This course also presents the key business concepts and theories for participants from a non‐business background.
The business innovation module is concerned with strategic innovation management for corporate competitive advantage. It provides participants with the knowledge and skills required to understand and manage innovation at the operational and strategic level. Specifically, it integrates management of the market sector with organizational and technological change to enhance the competitiveness of the company. Participants will acquire a critical understanding of strategic innovation at an operational level in an innovation management context, including the tenets of managing growth through innovation in a fast changing global business environment.
02-E02 Creativity and Ideation Techniques
The creativity and ideation module introduces participants to an exploration of creativity and ideation within the discipline of business and management. The changing understanding of creativity is explored as well as personal approaches to creative problem solving. The broad nature of ideation is examined in terms of idea generation, evaluation, and concept development. The role of both creativity and ideation in gaining strategic advantage is introduced. Participants will be exposed to creativity in different fields, for example. Business, Arts, Science, Engineering and Social Science.
02-E03 Global Market Research
The global market research module aims to provide knowledge on the qualitative and quantitative methodologies used in global market research, which provides a foundation in understanding both markets and consumers. A variety of qualitative and quantitative data collection and data analysis methods for descriptive, causal, and exploratory research designs will be discussed and compared, alongside the utilization of these techniques in market research. The research design process (problem identification, proposal writing) will also be taught. During this course students will be presented with the concepts of marketing in all types of organizations and various techniques and approaches used to study the market, competitors, competitive intelligence, as well as emerging weak signals.
02-E04 Innovation Project Feasibility
The innovation project feasibility module will present the various methods and concepts that can be used to assess the feasibility, viability, and sustainability of an innovation project in terms of economic feasibility, legal feasibility, operational feasibility, technical feasibility and schedule feasibility. Accounting, finance, risk and budgeting concepts will also be covered. The innovation project feasibility allows the participant to apply theories of design and learning innovation in their chosen study environment through completing and documenting a small scale research project.
02-E05 New Product Development
During this module, course students will be presented with the new product development process including services and techniques to manage multi-discipline innovation. The module examines the strategies, processes, methods and techniques used for new product development from inception to realization.
02-E06 Innovation Design
The innovation design techniques module seeks to develop basic skills in design thinking and innovative problem solving. Design thinking is a methodology of innovation based on a deep understanding of what people want and need. Within this module, participants will be presented with various approaches and techniques that can be used to design new products and services. Hands-on experience will be provided in developing physical prototypes, mockups, and, for example, Fab‐Lab.
2-E07 Knowledge-based Innovation
Students will learn innovation concepts and techniques that allow innovation to emerge from a better use and combination of existing knowledge. Concepts of Knowledge management (C-K) will be presented as well as techniques such as the Theory of Inventive Problem Solving (TRIZ). TRIZ is an inventive problem solving process and a structured, "left brained" approach to breakthrough innovation through the use of patterns of invention documented in the most inventive of the world's patents. The C K design theory or concept knowledge theory is both a design theory and a theory of reasoning in design. The theory builds on several traditions of design theory, including systematic design, axiomatic design, creativity theories, general and formal design theories, and artificial intelligence based design models.
02-E08 - Team Project (in partnership with industry)
Teams of students will work on a real project, helping a local organization to overcome an innovation challenge.
Each team will have a coach that will guide them through the project. This project will allow students to apply the knowledge gained a classroom setting to a live innovation project.
02-E09 Strategic Innovation Management
During this module various aspects of the innovation implementation process will be presented including strategy, change, implementation, motivation and sustainability. The module aims to provide an understanding of key innovation and entrepreneurship management concepts and principles. This becomes a reference point for managing product innovation and development at operational and strategic levels and enhancing competitiveness through innovation. The processes involved in the development of new products and services, including the management of resources and key activities form part of the module alongside an examination of internal and external factors that influence and facilitate organizational innovation.
02-E10 innovation Research Methodology
This module is designed to provide participants with the necessary training to undertake advanced level research in business and management. The module has two aspects. Firstly, it focuses on the nature of research in a chosen area, the field of social sciences, and an evaluation of the study skills necessary to manage and undertake a research project. Secondly, it provides participants with the opportunity to become familiar with the seminal, empirical and theoretical extant research and literature in the domain of innovation management. Such skills are intended to provide a good foundation for undertaking a dissertation at an advanced level.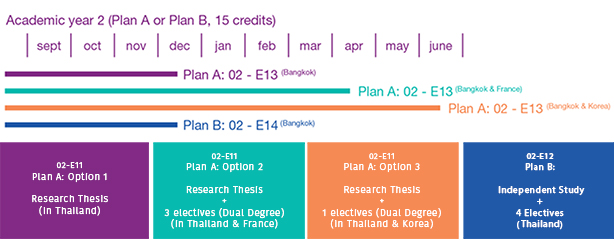 Students interested in doing a Ph.D in the future are highly encouraged to take plan A, so they will gain some initial research experience that will be very beneficial for their work in the Ph.D program.
02-E11
Plan A: Research Thesis
Option 1: Thesis + 1 Elective (Bangkok University) + 2 years if selected in Ph.D KIM
Option 2: Thesis + 3 Electives (Dual degree Bangkok University & I.A.E - 1 month in France) + 2 years if selected in Ph.D KIM
Option 3: Thesis + 1 Elective (Dual degree Bangkok University & Hanyang University - 2 semesters in Korea) + 2 years if selected in Ph.D KIM
02-E12
Plan B: Independent Study + 4 Electives (Single degree - Bangkok University)